I am seeing more and more of these out there lately. A friend who works at a local Fetish store that they simply can not keep them in stock as they "
fly off the shelves.
"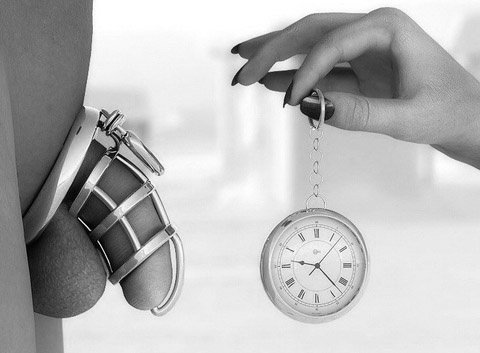 But I have yet to hear from anyone who I know well in the chastity/kink communities who uses one long term about how it works for them. I have also heard some stories that scare me, and now that there are so many knock offs made in China, I can't fathom buying a cheap one. I know that
Steelworx
makes them, and I've seen a
video of the installation
. Oooof! Sure doesn't look like something for beginners!

As someone who's never had anything in my urethra, I'm particularly wary about it... but I can't deny that I'm curious. It seems that people like them for a few primary reasons. First, some like it because of the added security, since it makes pull out impossible. Some like the fact that the curve of the the insert makes any type of erection that much more impossible, so the denial is even greater. And some clearly find excitement in the discomfort of it. Though
painful chastity
is not new to the chastity world,
not by a long shot
. Lastly, some like the fact that it allows for a much more
minimalist cage design
, which makes cleaning, and I suspect teasing, easier.
So, anyone out there using one for long term wear? I'd like to
hear from you
.