I just wanted to follow up post about my chastity experience, and my grateful joyous release on Monday. After a bit of a good and proper rough handling, my gag was removed and I was allowed to beg for release, and beg I did. Both Mistresses were quite impressed with the speed I can say please, and the sheer desperation in my voice must have been convincing.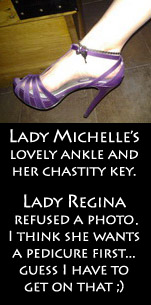 I tell ya, it was one helluva ride. Very interesting in many ways. I was switched out of the first belt into the second one early on day 4, and then went 14 days straight without taking the belt off at any point at all. That was a first. In the past, my wife would allow me to take it off for an hour here or there at night to shave and rest the skin, but with the dynamic as it is, that wasn't something happening.
And I'm amazed at how well my body held up. I got a newer belt from
Chastity Heaven
. about a year ago, and though it wasn't used very often, I wasn't sure it was going to work out that well. But it works great. I switched into it on day 4, and I'm really impressed.
I'm not in a rush to get locked up again, I'm sure when the time is right it will happen. There is just too much going on.
These last couple of months have been really a roller coaster. Lots of changes, lots of firsts. I'm so grateful for all the friends and all the support. The next few weeks are going to be superbly hectic, so if I'm not posting, its not because I'm in the doldrums, nor because I'm locked away and stuffed in a cage. But selling the house and moving, its like a full time job.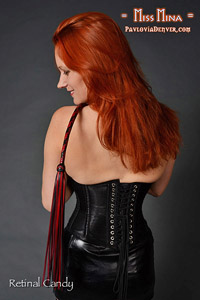 One other totally unrelated thing I wanted to mention that I had not gotten to, was the experience I had as
Mistress Saskia
&
Miss Mina's
rope sub for their demo at Beyond Leather. I'm not normally a big fan of rope, to me, bondage was always about a means to an end. And rope, though I can appreciate the OCD artistry, it simply a time consuming thing. I'm also not an exhibitionist, nor really a voyeur. But when Mistress Saskia said she was going to be a presenter at the conference, I offered to help however I could... and it turned out that having to get naked on a Saturday morning before about 50 people and have my nuts tied to my pulled up knee with sisal rope was one of those things that just had to happen.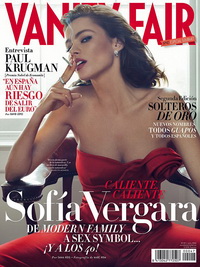 And I tell ya what. It was fun. Heck, everything Sozz does is just fun. Of all the Dominant Women I know, she probably loves a laugh more than any. And knows how to get em. And Miss Mina has got one of the sexiest sadist smiles I've ever seen. Not to mention the fact that the rest of her is very easy on the eyes too. Not that I was looking, nope, not me, not one bit.
A lot more than one bit actually ;)
One last bit of news, Sofia Vergara's
August 2012, Vanity Fair
- Spanish edition, sure looks like something I'd script. The brunette beauty from Modern Family is shown in a snug corset and smoking. Yeah, that's definitely right up my alley.