Holy Hard-on Batman!
Now, I'm not 100% sure, but that waist curve is really quite pronounced. Even if its just a
girdle or Spanx®
that she's wearing to give her already delicious figure a little something extra, it sure is appreciated by me!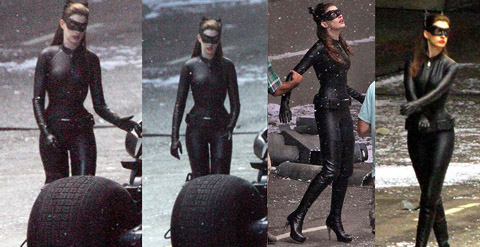 I'm not the only one who thinks she's been nipped a bit
starcasm.net
: "
Anne Hathaway was photographed on the set of Batman: Dark Knight Rises wearing her amazing figure-enhancing black Catwoman catsuit. The sleek costume looked to be corseted in the midsection, taking a few inches off of Hathaway's already thin waist.
"
In other corset news,
staylace.com
posted a link to a great blog article called
"4 Myths about Waist Training"
. I really loathe the absurd crap that gets passed around like "
Victorian women had ribs removed to corset smaller
." Like they could perform surgery that complicated back in the 1800s, and would do it for vanity? How much of a cement head do you have to be to pass that stuff off as truth. Gah! Though I do suspect that a remark she makes in her second point about tying sleeping corseted children to the bed was more like an extreme rarity than something common place. *shrug*
And yeah, I know, I promised to write about me. Its been quite a while, and now with the in-laws gone I need to find the time. Soon, I'll be under lock and key and more focused ;)
BTW, blogger recently changed its admin format - and I think it absolutely sucks. I really have to move over to Wordpress, this is just super annoying.