If you are a bored smoking fetishist, head over to the tumblr blogs for "
European Smoking & Street Fashion
" or "
Smoking Hotties
" - and watch that boredom melt away!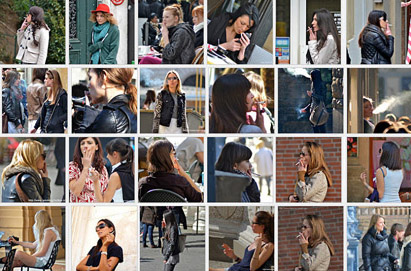 That is assuming you are a smoking fetishist purist, and not into what seems to be the BDSM idea of smoking fetishism which includes lots of blowing smoke in faces, ashing in mouths, spitting on people and of course, burning.
I don't know how it seems to always come to that noe. Well not always, but 99% of the time. Why can't FemDom clips just show a dominant woman who enjoys smoking during a scene? Its such a rarity. And for me, all that other stuff is so completely
NOT IT
, not it at all.
FWIW folks, I deleted a comment. I don't often do it, but the fact is I know is an unhealthy habit. I suspect when you step back, about half the things we do to ourselves are unhealthy in some ways. I'm not trying to minimize what it all means, but that's not what this blog is about. If you want one of those discussions, checkout WebMD or something.
If you don't want to read about the topic, skip it. If you don't "get" the smoking fetish, you don't have to comment. If you want to understand it better,
feel free to read onward
.
/rantmodeoff