In case you miseed it the other day, an Anonymous comment in the
Law & Order
blog post asked about the picture of
Katey Sagal's
well worn heels. That hot shot comes from a 1990 appearance on Tales from the Crypt, S.2 Ep.8.

Katay is best known as Peg Bundy from Married With Children.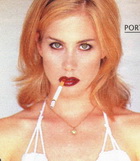 In all truth, MWC isn't high brow humor, but that doesn't mean it didn't
have some fine moments
. Because there's nothing quite like a leather wearing, riding crop wielding housewife! Except perhaps the absolutely deliciously
bad girl
daughter she raised ;)
If you want more? These caps, plus I think a video are all at:
KinkyGerlinky
. Enjoy!
FYI - if you still want more, Katay is still looking smoking hot sexy as the biker momma on FX's series:
Sons of Anarchy