Ok, this is the way my fetish mind works (and how some things get on this blog.)
Yesterday I read an article about upcoming funny movies.
One film
mentions actress Judy Greer playing a shrewish wife (which can be kinda hot.) As I can't recall who she is, I find
her on IMDB
.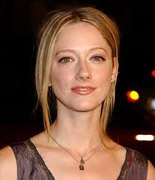 She's got one of those lovely
tight dancer bods
(actually was a ballerina first btw) - and has the kind of sharp features that can really work for me. A little bookish, but bright eyes and well... so far so good.
So now I wonder if she might smoke in the upcoming film, and does she smoke at all, I mean those ballerinas are pretty serious smokers... I go off to smokingsides and
look her up
, yup - a likely IRL smoker. Six movies, including an insolent "
smoke in your face
" moment with Rose McGowan in Jawbreaker. Ok, that's promising. I check the
smoking celeb site
, not much content out there.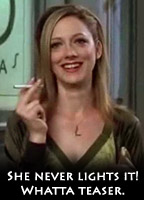 And since there was a particularly interesting
blurb
about it possibly being a rare 120mm cigarette, in the 2004 film "
13 Going on 30
" - though only holding, and not smoking actually, I'm curious. FYI - the super long 120mm cigarettes are very rare in mainstream films. So I get a copy of 13/30, and scan through it fast. And as she looks yummy in it, and holds the cig naturally, and moves like a real smoker... I take some screenshots of her in the scene to share on the WWW. FYI - it happens around the 45 min mark in my copy of the film. Just before that, I took some other shots of her tight little body all dolled up with dark red lips, in a very snug and shiny (
two of my favorites!
) dress with a
corselette
style top. Yum.

Hope you enjoyed the explanation of how some stuff gets here. Oh, and I don't think it was a 120mm, though it's at least a 100mm. A 120mm really is so long before it's smoked down at all, its almost hyper theatrical.