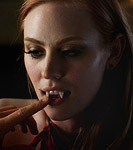 While
Deborah
isn't a household name yet, I suspect most folks will recognize her from her role as
Jessica Chamby
from HBO's uber campy True Blood. TB is one of those shows that I've learned to love to hate. Season 2 was the only 'good' season IMO, and without Jessica in TB, I'm sure I'd have quit watching by now.
Her character is *THAT* hot. The usually reluctant "
Ooops, did I ravage and kill you?
" young vampiress pushes
my buttons
, big time. The only way I'd want her off the show is if she was going to do a spin-off series *hint hint*
I'm not alone either. Jessica spends most of her time either in her waitress outfit, or floral dresses - while feigning this delicious
innocence
and
beauty
, while still oozing
sexuality
. She has most guys (
and many women
) completely enthralled. She's pretty much the only reason I watch at this point.
The only other woman on that show who holds any of my attention is
Kristin Bauer
, who has some great fetish style - but seems to be too minor a role in the show to really flourish.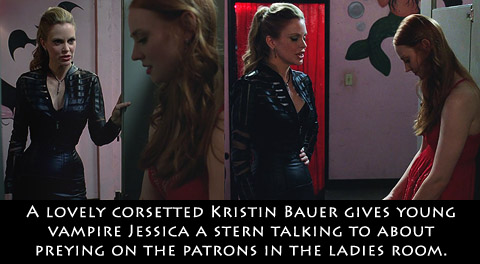 Even Evan Rachel Wood was actually
a bit disappointing
in her brief role in the series. Evan can be
sooo hot too
, but her character was more vapid than vampire. And the female lead of True Blood, Sookie, has a body that's out this world, and yet is able to annoy me to no when where I keep hoping that a meteor will fall out of the sky and crush her and her saccharine love interest, Bill.
Anyway, where was I? Oh yes, when word of Deborah smoking in a couple of movies,
Little Murder
&
Catch .44
hit my ears, I was hopeful. After watching them both, I think Murder is the better of the two. Although she has a 5 or 6 smoking scenes in Catch, the one scene in Murder tops the quantity IMO.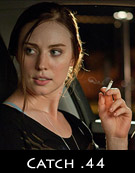 In Catch, Deborah looks disheveled, panicked and sweaty. Plus, she often holds the cigarette awkwardly. Sometimes between her thumb and pointer finger (
trucker macho style
), and on one occasion between her ring & middle fingers - and while I find the former truly unattractive, the latter is simply distracting.
In the one scene in Murder, while she still appears a bit awkward smoking, she also looks much prettier, and holds it in a more attractive manner. There are a couple of genuine inhales and exhales. Though she is definitely a long way from becoming a
ScarJo
or
Charlize
kind of seductive smoking goddess.

Either way, it was a nice little holiday treat for this fetishist! If ya want more, visit the fan site
"I heart Deborah"
. Special thanks to "Chill" of the Smoking Celebs board for posting all the videos - like this 16MB one for
Little Murder
.