For those of you who are newer to the blog, one of my good friends in the scene is the headmistress of Pavlovia, known as "
Denver's Delightfully Demented Domme
" -
Mistress Saskia
.
FWIW, I don't think she's as demented as she pretends, but she sure a ton of fun, and definitely is dancing to her own drums! And I'm totally picking her first to be on my team in the
zombie apocalypse
. Well, maybe thirdsies actually, just in case my wife and my Mistress are reading. ;)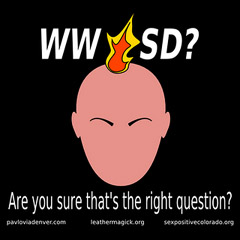 Anyway, the exciting news is that Mistress Saskia recently she informed me of something that I think is just flat awesome, both for the design and the concept... WWSD "
What Would Saskia Do?
" T-Shirts as a fund raiser for two good causes! You can order your own at:
wwsd-stuff.blogspot.com
Here's the official verbage:
High quality 100% cotton black shirts, screen printed right here in Colorado. 2/3 of proceeds go to
Leather Magick
, 1/3 to the
Center for Sex Positive Culture - Boulder
. Look good and do good! Whoohoo!
Orders will be taken through the evening of September 6th 2011 -- the day after Labor Day. Delivery will be in early October; we will announce on
wwsd-stuff blog
as soon as we have more infos.

Will there be more? Stickers? Thongs? Boxers? These are in the works, and we'll update as details are nailed down. No shipping charges if you pick up your stuff at a local event!
Just in case you're lucky enough to be living in CO
. In the meanwhile, get outside and have fun, it's summer time after all!