Edging. Ruined orgasms. Fully bound. Helpless. Beautiful woman. What more could you ask for?
Well... being greedy like I am, I'd say since I'm a smoking fetishist I'd definitely throw some of that in there, and well - while I've definitely grown less critical about non-fetish wear in a scene, I do think her underwear is pretty silly - but dahhhhhm she's got it.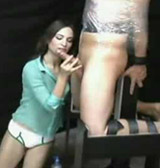 Oh, and maybe a little less derision about the actual release, but I'm not into humiliation. And yet, even with that, this video rates about a 38 on the 1-10 hotness scale. At least for me... I'm sure there are guys, probably the majority of guys who'll find this a bit tedious and boring or just a flat out turn off. I mean, it is a
ruined orgasm
, well more than one actually.
Then again, I find most foot worship videos pretty boring after about 30 seconds. Unless there is something more going on, I don't appreciate the subtle nuances of it. To each their own, right?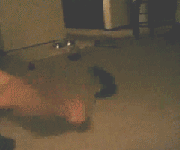 Anyway - I can't vouch for the site I found this on - so I can't say it won't give you some weird PC issue or have pop-ups or whatever. It was fine for me, but my computer (firefox browser) is pretty tightly defended now that I have become more and more cautious (paranoid?) about anything since the ugly virus' going around have gotten all the uglier. And the little lonely script hackers seem to like going after the "free" adult content world. Pretty crappy to trap you like that when you're just going for the happy fuzzy thing? Right?
This is perhaps the most wonderfully brutal edging/ruined orgasm video I've ever seen - "
Amber Rayne Psycho Handjob
"
I've uploaded it as an .FLV file (that's a flash video) to
multi-upload
(18.7MB) Just in case you would rather download to watch when you have more private time. You might need to get a
FLV player
.
Anyway, this little video inspired a bit more background fantasy to me. Though I'm not sure I'm going to share it with my wife. Because I'd hate it if it happened.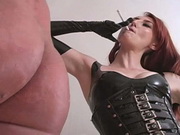 I'm sure I'd love how much I hated it, but well... maybe she can just read it here, how in my mind this fellow was locked in chastity for a duration and because he couldn't be successfully prostate milked, his Mistress chose this as the method of maintaining his prostate health.
Though of course in my fantasy there are some over the elbow latex gloves, some dark lipstick, at least a cigarette... and maybe some clothes pins on the balls too.
Ok, now it's out there, we'll see if my wife reads my blog anymore ;)