Fetishist see things that normal people do not. It's quite simple really, the fact is a fetishist is looking for those things.
All the time. It's just the way we are.
Last night I received an e-mail from "BootLover" with these picture of Mistress Denna kicking her slave in Episode 8 of "
Legend of the Seeker
." He had noticed in one of the scenes Mistress Denna pushes (or even kicks) away an adoring slave who is kneeling at her feet. Me, I missed it completely. I was focused on her imperious crossed arms and the sway of her long ponytail, but obviously Boot Lover caught what his fetish eye has been trained to see. And although he was disappointed that he couldn't capture the "exact" moment of the push off, he did offer the images to share. The images are over contrasted which I think was caused by attempts to brighten it up a bit since the event was in the shadows that it's tough to see.

Along similar lines was something I noticed in the smoking that Meg Ryan did in 1990s "
Joe vs the Volcano
." There were basically just two scenes - and Meg has definitely had stronger smoking performances. But this one gets me, her mannerisms totally push my buttons.
First, she looks very attractive without looking trashy, and she's got the well made up lips that I love. But really it is the way that she holds her cigarette - both very casual and yet deliberate. The consistent nature of her style makes it obvious that she is an IRL smoker too. Just the way that when she talks, she moves it around as a tool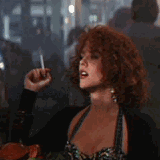 for communicating. I do have to over look that her drags and her exhale are very shallow, almost done in a way to pretend like she doesn't actually smoke, or perhaps that just had to go with her uber debutante character's style. All in all, her casual manner with the cigarette gets my heart pounding.
Plus... and here's the fetish eye thing. To my trained perverted fetishists eye, I can see that her cigarette in the first scene is either a Virginia Slims or a Benson & Hedges. It's slimmer than the cigarette in the second scene, which I suspect is a Marlboro light 100. I can on occasion let
my imagination run
, but that's a fetishists eye for ya. Take a
close look
and tell me I'm crazy if you want. And though I used to have a thing for Virgina Slims, especially the 120s - I'm not as specific now. It depends on the woman's personal smoking style and the size of her hands. And along similar lines, I should mention that I do not like the look of Capri cigarettes. I think that they look awkward, even childish. I know some smoking fetishists
love them
- I'm just not one of those fetishists. And don't go thinking
Capri fetishists
are weird, there's a sub-fetish for most cigarette brands out there.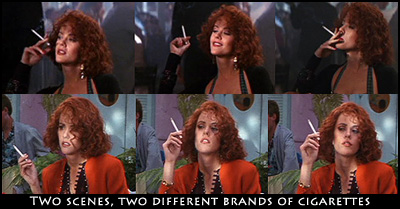 I suspect that the way fetishists want to see something can sometimes allow them to let their imagination over rule what is right before their eyes. Time and time again someone will post a
fake picture
of a celebrity smoking. Occasionally they're tough to identify as a
photoshop job
, but that's usually when they're small and of poor quality. Occasionally a fake is so good, we're only certain when the original image(s) and then we all say "I told ya so!"
And invariably sometime in the not too distant future,
actual pictures
of that woman smoking shows up. And the "I told ya so's" start again. But that's not unique to the smoking fetishists. The corset folks *cough*
me
*cough* sometimes put up photoshops too - but I always admit that it's a fake. Anyway, that's the fetishist's eye for ya. And if you ever want to see it yourself, just find some pictures of a celeb wearing those
tight black leggings
that are the rage now. Post them on a latex fetishist forum and ask folks if they like them. Or if you really want to rile folks, say that they're latex. Because fetishists know their stuff. :)
And for those of you who are like me, if you want more of Meg in Joe vs. the Volcano, there are about 300 images scenes in these two zip files. Sizes:
9.55 MB
&
7.27 MB