Baby steps... but now with a time limitation of her parents coming to visit on the 4th. Oi! But we are making progress. In the last couple weeks we went from this: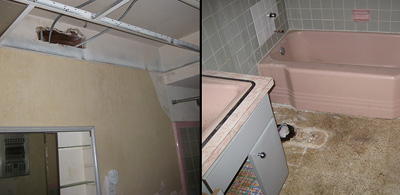 To this (and my soft hands might be gone forever)

A plumber and electrician are scheduled to come this afternoon to move the light from the center of the room to where we want it on the wall, and to remove the old pipe fittings for the sink area. We had to abandon the idea of painting the walls, the room is just to beat up, so it's "Venetian Plaster" - then we use this (more expensive then re-tiling???) super toxic powerful special paint on all the tiles & tub. Then I will tile the floor, then we install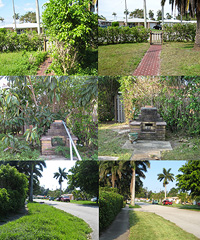 the vanity and sink and mirror and then I build this wall thingy for storage...
Anyone wanna help? :P
At least the landscapers (I keep wanting to call them the landscrapers because of how much work there was) came and fixed the yard. Now if only we can get someone here to spray for bugs! Strangely, we're O-fer two on no-shows so far.
FYI - Using a Dremel® with a grout cutting tool is much easier than a hammer and screwdriver (or chisel) for taking out old tiles.