I've been meaning to get this entry and info up for a while, but I'm running up hill again. After the fabulous trip to LA (
thanks again for being such an awesome hostess Mistress Kriss!
) I got home, buried myself into some over due design work (both vanilla and
kinky
) and then promptly got a doozy of a head cold. I swear on Wed I was wandering around like a zombie.
Ugh. I'm definitely on the mend, but I'm still pretty looped.
A couple weeks ago on the TV show "Dollhouse" -
previous blog entry
or
official site
&
wiki
. The main character "Echo" played by
Eliza Dushku
was all dolled up in leathers and discussing the appeal of being a dominatrix. At best it was a light and silly scene, but hey - how many shows on prime time have a character who even for a moment shows herself as a confident and powerful sexual woman. Add in the full leathers and talking about BDSM?

And for a bonus (although Eliza claims she's
quit again
) she's got such a totally deliciously smoker rasp that if she's given up cigarettes, I'm going to accuse her of still
smoking
something. ;)
I have to admit, I'm starting to wonder about Eliza. She definitely seems to get cast into these bad girl/dommy type roles a lot. Her big roles before this show were playing Buffy's tough as nails (and far
hotter
) rival,
Faith
on both
Buffy the Vampire Slayer
&
Angel
, and then playing Sissy, the leader of an
all girl gang
in
Jay and Silent Bob Strike Back
. And btw, the gang all wear delicious
wet look catsuits
for their big heist. You might also know her as the
bad girl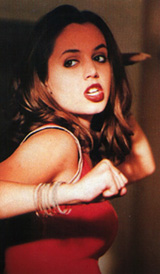 cheerleader in
Bring It On
, or from her TV show,
Tru Calling
, which lasted a couple of years.
The thing that makes me most wonder is that she's producing Dollhouse. Which means she's clearly
in charge
of what's going on. So when she's dressed all dommy, or her character is strutting around in these boots and referring to them as "
comfortable shoes
" - that says something to me. Generally I've found Dollhouse to be mediocre. Hopefully it'll pickup, but even if the plots and the characters are are a bit thin, at least there's plenty of eye candy. You can view the entire Dollhouse dominatrix scene on YouTube -
here
. But if they pull it, you can also get it on
rapidshare
or
mediafire
.
BTW, please don't misunderstand me, I really like the fact that Eliza has some idea of what pushes our buttons and I'm very happy to see it out there. And while it the series isn't yet quite as good as I hoped, it sure beats the pants off of the Friday night TV that I grew up on - Knight Rider & Buck Rogers.
And it makes me wonder just how empowered the next generations of women will be.