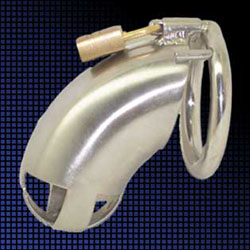 I added a bit of information to the
FAQ
. Most of it is about the new birdlocked chastity device. It has made such a splash in the community since it's introduction, that I felt it deserved to be included. And while the birdlocked obviously isn't going to be perfect for everyone (
neither is chastity in general
) it is every bit as affordable as the AL Enterprise's CB-#### designs, and I suspect it's been profitable enough for the company that it is going to be here to stay. So just because of it's market share in the community of newer wearers, I felt it needed at least some specific mention.
If you want to read about my brief experience with the birdlocked, please read my two blog entries about it
first
&
second
.
And if you want to learn about the basic hurdles and experiences of starting out in chastity - please read the
Chastity FAQ
.
Note: While I like to be helpful to folks in the community, I really want to encourage people with questions to join one of the forums listed at the
bottom of the FAQ
and ask questions there. That makes it available to everyone in the community to read and learn. If I just answer your e-mails, our personal exchanges and the shared information is kept just to ourselves and no one else can benefit from the knowledge and experience gained.