I was going to title this "Birdlock Conclusion" but based on my earlier
entry's title
, that seemed a bit stiff *cough* Alas, the birdlock has left the building - well, technically it's packed up to go. It simply was not meant to be.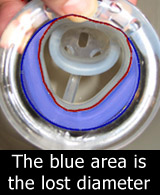 Interestingly enough, in spite of it not working for me at all, am quite impressed with the device. The issue for me is simply that the base ring of it is too wide, and too small. I had read that the consensus was that for men who had "size" issues with the CB#### style that the birdlock wouldn't fix it, however I considered my size issue with the those were generally minimal.
Ya know... I never thought that I'd write so specifically about something like this... anyway, the various base ring sizes of the CB#### allowed significantly more room than the base of the birdlock. Yes, the silicon does stretch, however it wants to be about the same general diameter of the medium sized ring - though it's a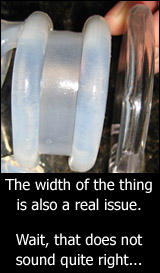 slightly and better shape than the almost perfectly circular CB base. Looking at the
comparison image
I suspect you can see exactly where the issue is - and yes Tom, I was wearing it correctly ;)
The base is not only smaller, but over 3x as wide. And that makes the smaller size a really more dramatic issue. Hopefully the designers
birdlocked.com
will continue to release more variations to the design. I definitely think there is real potential here - but there are real opportunities for improvements too.
Anyway, I think *CAW* is the perfect title. Especially if you've ever seen
Harvey Birdman
- the best cartoon ever.