First, there is one thing above all others that chafes me. It is when people erroneously believe they know why I like to do what I do, better than I do. And that's just do-do. So, with that in mind - I'm sorry if I get heated but I have to rant a bit. Over the years, I have found that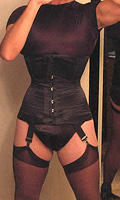 the lack of understanding or more accurately, the repeated misunderstanding regarding cross dressing and strap-on play to be frustrating. A close second comes the misconceptions that any man into chastity and cross dressing either wants to be a passable TV prostitute, or a "clean up after" cuckold. I'm going to pass on those. So, you go have your fun, but do not tell me how to go have mine, ok?
Ultimately there is no "one" reason for why all people might enjoy anything. If you think that there is, I implore you to take a step back and
look at things differently
. I have read * heard many dominant women say things along these lines: "
Men are into cross dressing because they think it humiliates them. Also all men believe that strap on play is humiliating because to "receive" is humiliating. Ultimately, men think that being a woman is degrading because of how they view women.
" Although I am sure some, (
maybe many... perhaps even most
) men may have some misogynistic drive behind their desire for cross-dressing and/or strapon play, not all of us are that way. Not at all. And frankly I blame Mandonna's "
What it feels like for a girl
" for the incorrect assumption as anything. And personally I wonder more and more if Mandonna has issues with her own sexuality.
Bottom line, plain and simple - I like wearing women's clothes sometimes. I like it because I think that I look damned sexy. And all the silky things just feels damned sexy. And to dress in drag is just plain and simply naughty. And some of it can be quite intense - and similar to bondage, like a corset, or a pair of really high heels. And yes, these are pictures of me in
corsets
or
school girl drag
.
Not only do I think I look hot, I don't feel at all humiliated. I feel empowered. And most perverts seem to think I look pretty hot too. Hell, even vanilla women have cat called at me in drag. And vanilla guys for that matter. Personally, I'm not interested in guys in any facet, but if they think I look hot, well good for them. I'm interested in the women. And women get to wear all the sexy clothes. It's that simple. It's the rules. Oh and walking in heels isn't hard, it just takes practice - though it sure does make the tootsies sore!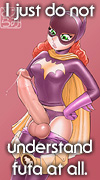 Now strap-on play, that can go from one extreme of being sensual and pleasurable - to being extremely intense, painful and even humiliating. First, not all people enjoy anal play. Not all women, not all men. And there are definitely folks in the scene who enjoy things, not in spite of, but because of the fact that they genuinely do *NOT* enjoy them. Yah, it's a great mind-fuck of the scene, but I can think back to a few instances of my life where in the moment something was transpiring I wasn't happy at all about it. In fact, sometimes it just downright pissed me off. And yet I went through it, because the Mistress I was with at the time wanted to do it and I wasn't strongly opposed. Ya know, it isn't all about me... So then, months later, I'm all hot about how much I hated it, and wondering if I could learn to hate it more... Anal penetration can be that way. Very much so. Do it a bit harshly. Use a toy that isn't super smooth. Bind someone in a position that they don't like. Put them into a chastity belt. Have them orgasm first, and then strap-on on them. Heck, there have to be at least a hundred different ways to vary it up. And it definitely isn't always just about "
hitting the prostate and having a pleasurable experience, while secretly feeling degraded because it's feminine to be the receiver instead of the giver.
"
It's just not about that at all for me. It really is that simple.
And just one small aside, I found out that my ex-wife got uncomfortable with the sexual experimenting in our relationship exactly when I brought up anal play for me. She said (in counseling long after our marriage was failing) that she had a hard time "viewing me as a man" after we'd tried some strap-on play.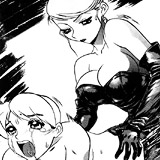 So, I can definitely understand why so many men would never dare open up about an interest in it. So many men are afraid to do anything that isn't chest pounding macho - and when you get down to it, it's a bit funny how much of a motivator fear plays in acting tough. It's like the 3 tap rule.
Pay a bit of attention the next time you see two men hug. If one of the guys might be uncomfortable with his sexuality, he'll give the 3 tap on the back hug - which is the signal to the other man that he better stop hugging because he's not comfortable anymore, and he might need to get violent to prove his masculinity and heterosexuality soon if you don't let go. It's the "I swear I'm a straight guy three tap" - and if you look for it, you are most certain to see it. And yes, it's all in the man rules handbook.