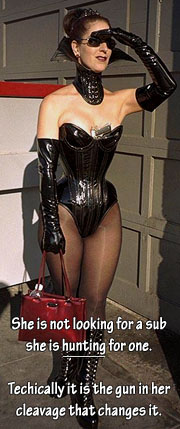 One of the ongoing topics that I get e-mailed about and definitely have read plenty about is "how to meet someone" who's into this. And 95% of the time the person asking is a male sub seeking a female dom. Though I'm sure the circles that I frequent heavily bias that.
In general, meeting someone IRL (in real life) and not just in
CyberSpace*
, isn't easy for most people. Kinksters are definitely a very small percentage of the population, and there are many more men than women - especially if you are not a male top seeking a female sub.
So, for starters it's easier in larger population areas like cities. Some cities are more friendly to it than others - here in the US, the places where its easiest are probably New York and San Fran. Though there are active scenes in most good sized US cities: Boston, Phily, Miami/Ft. Laud (where I am), LA & Atlanta.
From there, you can either go to a fetish party, like the
Fetish Factory
- (
Halloween one 2006 pic
.) Although often people at the large fetish parties are just into the fashion, or just into swinging. Some more serious scene folks call the fetish factory version of S&M as "Stand & Model". So, if you are more serious about your kinks, seek out munches. Munches are informal meetings, usually held at restaurants. People dress very vanilla, and privacy is highly important. Basically it's just an informal get together. Imagine a book of the month club gathering at your local family restaurant... although the book is going to be by the
greenery press
folks, and not some traditional publishing company.
From there, just be sure to stick around the scene for a while. Everyone doesn't

just show up at every munch waiting for *YOU* to make it there and whisk them away to the world of happily ever after. Kinky or not, we are real people with real lives, feelings, relationships, etc. It's not like pulling up to a drive thru and ordering a small with fries. Get out of yourself and get involved - participate, learn, share. Contact the
NCSF
and volunteer. I'm sure that sooner or later if you are nice and interested in contributing to the scene (
and not just getting your own itch scratched
) then I'm sure you'll find someone to play with.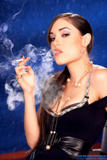 Just FYI, I have heard that
Ms. Sasha Grey
is already spoken for. Though technically she's not a life styler, since she's
pro
, ya know... corporate sponsorships and such.
Just to be totally clear - I don't think that meeting in cyberspace is a bad way to go about it either. And though there are a great many people who limit their playing to the cyber realm, there are those who just use it to meet people IRL. There's nothing wrong with just cyber'ing either - especially when the players are mature enough to understand that experiences in cyber play do translate as an equal understanding for experiences of face to face "IRL" play.
There are some great sites out there for meeting people in cyber space, and there are many benefits to it. You can be very specific about your interests, and that makes searching for a compatible partner much easier - since you don't have to be within driving distance to chat, the world is your oyster for friends. Some sites available are:
alt-loving.com
,
fetlife.com
,
alt.com
&
bondage.com
.
Alt loving & fetlife are newer, and free. Alt & bondage are older and I believe charge you to make a listing. Please keep in mind that there are people on those sites who might not be what they say they are. I've heard stories of lifestylers being taken by con folks on alt or bondage who say "pay for my plane ticket to fly me to you" kind of things. And Nigerian princes, etc. Just be wary of that fact. The cute little Japanese school girl might actually be some
total perv
weirdo guy with a hairy back who's from Connecticut!!! :P